I'm finally done putting together a Q&A site for us sound designers. I'm very, very excited about this project! Come visit Social Sound Design. It's 100% free. SSD is brand new and freshly unwrapped, so let's get the ball rolling with lots of questions, answers and knowledge exchange. 😉
about the project
Sound design has many facets. As sound designers, we may step into the shoes of an artist, programmer, editor, storyteller or engineer. Because we play so many roles, we may not have all the expertise we need to carry out a project. The purpose of this site is to provide a community-driven knowledge exchange on all disciplines of sound design.
Whenever I'm busy with a project, I have to navigate through a countless number of forums and websites to find information. On the flip side, I often receive emails from people who have questions. It takes me a lot of time to respond and the information only goes to that one person instead of the community.
If we share our knowledge, we can spend less time reinventing the wheel and more time creating.
competition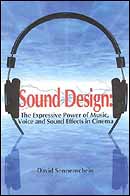 The first user to receive the Nice Question badge (question voted up 10 times)
will win a signed copy of David Sonnenschein's book Sound Design: The Expressive Power of Music, Voice and Sound Effects in Cinema. He was kind enough to donate it for Social Sound Design. Thank you, David!
here's the deal
It's totally free for you to use, but I will soon have to pay for the service and it's not cheap. However, I really believe it's worth every penny! We all will benefit hugely from having a place to share our knowledge of sound design. Right now, the site is in beta. But, on the next release, the 45 day free trial will start, then they will charge for the service. To keep Social Sound Design going, I need lots of us to be involved in it. This way, I can get advertising to help buffer the cost (I will happily pay the difference).
need more information?
Read the FAQ page.
Read the Help page (how to embed media).
Read the Info page.
get connected
SSD on twitter:

@SocialSD where all the latest questions and news are posted.
recent questions RSS feed:

RSS where you can sign up to receive  the latest questions in your rss reader.
email
forum [at] soundplusdesign [dot] com
Filed under: + blog, colabortaion, community, forum
|
1

Comment
---
---
search

sign up

connect

sponsored links

Categories

Sound Design Friends